National Reconciliation Week, from May 27 to June 3, is a time for all Australians to learn about our shared histories, cultures, and achievements, and to explore how each of us can contribute to achieving reconciliation in Australia.  
 These dates commemorate two significant milestones in the reconciliation journey – the successful 1967 referendum, and the High Court Mabo decision, respectively.  
 Taking action as an organisation and being an advocate of reconciliation is an essential part of how Youth Focus champions the mental health needs of young people in WA, supporting them to thrive in their community.  
It's also part of how we work to ensure that every individual who interacts with us feels safe and is able to bring their whole selves, being welcomed with equity, dignity and respect. In doing so, we understand that we must first include, listen, and reflect.  
Reconciliation Week is an important time to reflect, and to build connections and trust. Our 'Reflect' Reconciliation Action Plan (RAP) – delivered in partnership with Aboriginal and Torres Strait Islander peoples – outlined how Youth Focus will work to achieve a greater level of trust, understanding and connectedness with Aboriginal and Torres Strait Islander peoples and contribute to their positive emotional and social mental health and wellbeing.  
We're now working towards our 'Innovate' RAP, which will see Youth Focus building on our "vision for reconciliation" to ensure alignment with our organisational goal of creating a world where a young person's mental health does not get in the way of them being who they want to be. 
Youth Focus wholeheartedly supports National Reconciliation Week as a part of our reconciliation journey, just as we proudly support an Aboriginal and Torres Strait Islander Voice to Parliament.  
YOUTH FOCUS' RAP ARTWORK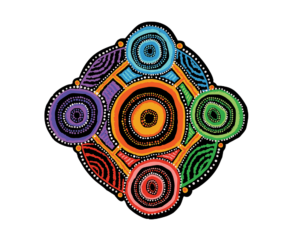 The artwork for the Youth Focus RAP, by acclaimed artist Tyrown Waigana, expresses four pillars of support connected to youth as a central entity. 
Waigana, a Wandandi Noongar (Aboriginal) and Ait Koedhal (Torres Strait Islander), has used the blue circle to represent community, the green for country, the red as family and the purple for culture. The central yellow circle is representative of youth. 
These elements need to work together to create a single network which allows for the holistic progress of young people. 
"In the artwork itself you will notice four circles surrounding a larger circle in the centre. These four circles are representative of something that helps keep youth strong and creates strong youth for the future," Waigana said. 
"I wanted to create something bright that attempts to engage youth from all different backgrounds, however put it through the lens of Aboriginal culture. 
"I think this is important because although not everyone is Aboriginal, I do believe there are teachings in our culture that can help aid young people in identifying themselves and learn about the rich culture of this country." 
Waigana is a multi-disciplinary artist who practices with painting, illustration, sculpture, animation and graphic design. His most significant accomplishment was being named the winner of the national 2020 NAIDOC poster competition for his artwork "Shape of Land", which depicted the Rainbow Serpent coming out of the Dreamtime to create this country.