Send festive greetings to someone special and give back at the same time.
Purchase your festive cards from Youth Focus and help us support more young Western Australians with mental health issues this festive season.
For some young people, this time of year can be challenging. We are here to create merrier days and brighter futures, but we can't do it without you.
The limited-edition, blank greeting cards have been designed in collaboration with our young people, who inspired the festive messages on the front of the card.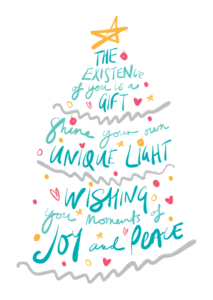 Please ensure your correct postal address is entered at the checkout. Cards will be shipped within 2 business days.
Digital eCards are also available. All queries can be directed to getinvolved@youthfocus.com.au