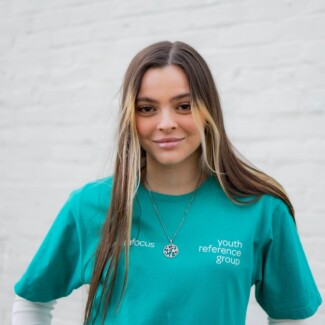 Alison (Ali) Pretzel, 23 (she/her)
Member
I joined the Youth Reference Group in 2018 and have really enjoyed it. I love knowing that I can make a difference to young lives!
I am passionate about erasing the stigma that surrounds mental health and I enjoy attending events on behalf of Youth Focus to spread awareness in the community. I, like many others, have suffered with mental health issues but I now use my experiences to show others that things do get better and it's ALWAYS okay to ask for help.
Ally Collins, 22 (she/her)
Member
I am a passionate member of the YRG because I believe Mental Health problems especially in younger people is a big issue in our society that needs to be talked about.
Youth Focus does absolutely outstanding work and I love being part of an organisation that helps kids suffering from mental health issues. When I first joined the group I had limited understanding of the services available. I have found being involved with the Youth focus group and broader team at various activities throughout the year has made me a more confident person and I have loved getting to know a whole new group of people.
Cody Watson, 20 (he/him and they/them)
Member
Being a part of the YRG gives me an opportunity to help guide the mental health professionals for best practice. I have had a lot of involvement within the mental health sector and I want to be involved in making it better for other young people.
I am currently a client of Youth Focus and have a history of lived experience with mental health. I am currently studying my Certificate IV in Youth Work so I am able to use different lenses from both the young person's point of view and the mental health workers point of view. I am a part of the LGBTQIA+ community, self-identifying as a non-binary trans masculine, gay and an a-sexual person and hoping to use my experiences in the community to guide mental health professionals on accessibility for our community.
It is my goal and passion to ensure services are safe, approachable and accepting of our community. My lived experience has taught me a lot of valuable lessons about mental health not picking and choosing who it affects, it can happen to anyone, and mental health is on a scale and not a one type fits all situation. My passion for helping young people and being the young person that was mistreated and did not get the supports I needed has motivated to be that person for young people and recognise them as humans, not statistics, through working as a youth worker. Ensuring young people feel heard and respected and never get the treatment that I had is my goal.
Eloise Armstrong, 21 (she/her)
Member
I joined the Youth Reference Group to improve my knowledge of youth mental health and feel educated enough to help those around me.
I learnt very quickly throughout high school that mental health conditions are not biased – that is, they can affect anyone. I feel passionately about breaking the stigma surrounding mental health and promoting the message that it's okay not to be okay. I was so attracted to Youth Focus and the work done by the Youth Reference Group in educating young people about mental health and equipping them with the resources and knowledge they need to help themselves and those around them.
As a soon to be graduate health professional who will undoubtedly always work with people with mental health conditions, I felt there was no better exposure to the mental health system than to be a part of it. The Youth Reference Group is such an exciting and humbling group to be part of. I am so grateful to contribute to an organisation as fantastic as Youth Focus and am fortunate to be reminded so often the power of being kind and genuinely listening to those around us.
Isabelle McMahon, 22 (she/her)
Member
Youth Focus is an organisation that encourages a healthier, happier, more meaningful life for young Western Australians. To be a part of an organisation that strives to make the lives of others better is the reason I am a Youth Reference Group member.
The mental health of young Western Australians is an increasingly prevalent issue affecting numerous people in our community. Being a Youth Reference Group member allows me to impact those who need our help.
As a member of the Youth Reference Group, I can be an advocate for educating our community on youth mental health and the services available to help those in need. Education on youth mental health is imperative to reducing the negative stigma around mental health and encouraging people to reach out, be kind and have open conversations about these issues.
As a member of the Youth Reference Group, my goal is to be a representative of youth focus as a friend to all, listen to people's worries and feelings, and help people reach their full potential to live a happy life.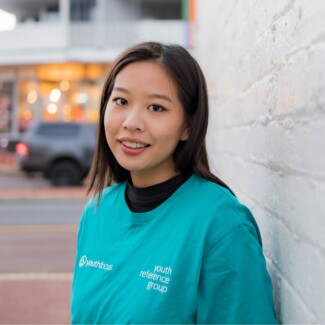 Joanne Lam, 20 (she/her)
Member
I want to support an organisation that empowers people to find their inner strength.
Through accessing mental health services in the past, I've learnt (and I'm still learning) of ways to get through rough patches in my life. I can definitely say that I feel more resilient and ready to deal with any issues that may come up. In a strange way, I am grateful for my mental health journey because even though I still need support, it has led me down a path of clarity and given me so many opportunities to grow as a person. More often than not, mental health issues do not have one quick fix. I believe that looking after your mental health requires a continual adjustment of approaches, and these are the skills that I want everyone to have. I want to contribute to an organisation that will coach young people into the best versions of themselves.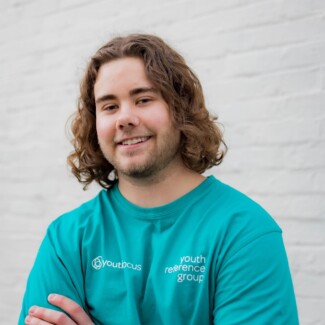 Joel Weir, 23 (he/him)
Member
As someone who knows how difficult it is to deal with mental illness, I feel that it's crucial that Youth Focus continues to provide their services all across WA.
Mental health is something I'm incredibly passionate about and by volunteering with Youth Focus, I hope we can not only help to keep our services relevant to the youth of today, but to also help remove the stigma that surrounds mental illness.
I want people to feel safe and comfortable when talking about their struggles rather than bottling everything in. Whether that be when talking to family, friends, or a professional, I want the people of WA to recognise that it is OK to not be OK.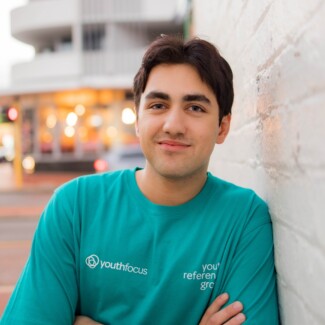 Leo Larkins, 18 (he/him)
Member
I joined the Youth Reference Group as I wanted to gain a better understanding of the problems facing mental health organisations. I also want to take part in making decisions that positively impact the organisation and young people in WA as a whole.
I have struggled with mental health issues in the past and would like to give back to and give ideas that would ultimately help people that were in my position. I hope by being a part of the YRG I can help break stigmas surrounding mental health and be an ambassador for change in my own community.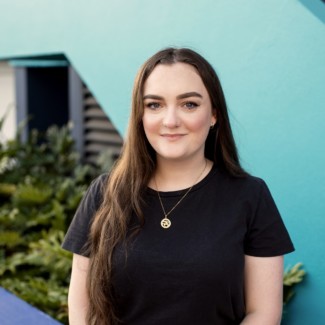 Lily Philp, 25 (she/her)
Member
I joined the YRG after finishing high school, where I had struggled with my mental health. I wanted to contribute in some way in supporting the mental health of others as I knew how difficult it could be to face it alone.
I've been able to use my own journey and experience to provide feedback on what I think would help others. Everyone's process is different, and having seen high school counsellors, and public and private mental health professionals, I've learned that there can be a disconnect between what is being provided and what would help.
Working with Youth Focus has been important to me to increase the accessibility and engagement of young people with the Youth Focus services. The healing process isn't linear, so it's important that healthcare providers get feedback from a wide range of people with different experiences when looking to improve and tailor their services. The YRG is a great space to help develop Youth Focus, but it is also a great space to develop yourself.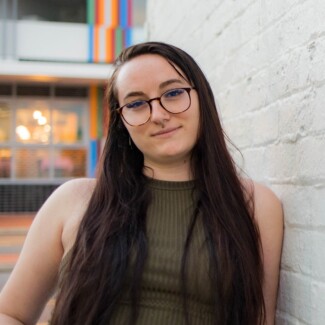 Sundara (Sunny) Link, 23 (she/her)
Member
I joined the Youth Reference Group to help young people gain a better understanding of their mental health and how to flourish in such a difficult world.
Youth Focus helped me when I was struggling with my mental health, and now I want to be able to give back to young people in my community.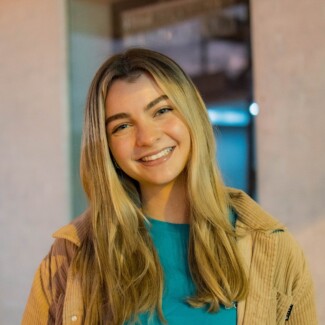 Tessa Gilson, 22 (she/her)
Member
Young people deserve to have inclusive, accessible and person-centred services for when they need support regarding their mental health.
I joined the Youth Reference Group after experiencing myself and seeing other young people experience the multi-faceted impact that mental distress can have on someone's life. I wanted to find a way in which I could contribute to making available mental health services better.
In my years volunteering in the Youth Reference Group, I have learned so much and have only become more passionate about improving the services that support youth mental health. I am proud to be a part of an organisation that values young people's voices to be heard and for their ability to be actively involved in their own support to be taken seriously.
Zac Boase, 22 (he/they)
Member
Mental health is part of everyone's life. It means many different things to different people and it ebbs and flows, and in times of need, it's great to know that organisations like Youth Focus can be there to support you. Having this opportunity to be apart of the YRG is something I'm very grateful for, and I always hope to make positive changes to help support young people who are struggling.
Being able to overcome the stigma around mental health and being able to shamelessly say you're struggling or have struggled is something I think we should all be more passionate about. Not just so we can seek help, but so we can celebrate our scars and realise that it's far more common than we think it is and we don't have to be ashamed about it.
Being able to give feedback to an organisation that adapts and grows to help young people in need, wherever they may be in their lives, is an incredibly rewarding experience that is a privilege to be apart of. Getting to share your experiences and perspectives to shape how services are delivered is something I always look forward to. Knowing that you won't just speak, you'll be heard.
If you require urgent mental health support, please attend your nearest hospital emergency department or call:
For phone counselling support, please contact: